Step 6 - Create content
If you've got this far then you've successfully installed and configured uBizStart for your own business website.
Now comes the fun part, creating content.
Baby step 1 - Site wide content options
Every page in the site has a 'properties' tab and you need to complete each item on this tab as follows:
The 'name' field - shown in red - is the page name which will be used as the first part of the page title and is likely to be used by Google in search results  
The 'template' option allows you to choose a template for the page. This site only has only three templates.

The 'home page' template should be used for the home page only
The 'contact page' template should be for the contact page only
All other pages should use the 'text page' template

 The 'publication status' allows you to specify a date when the page will be automatically published and / or removed. Set this dates as required.
The 'hide page' option allows you to hide a page from the site menus. Please note: the page will still be accessible using it's URL
The 'meta description' field should describe what the page is about. This is often used by Google as the description part for it's search results.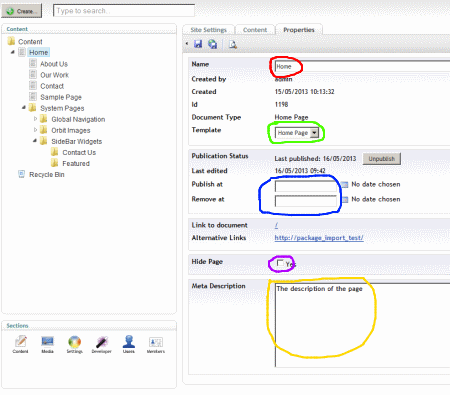 Baby step 2 - Home page content
There's a number of fields you need to complete on the home page, content tab and these are:
Header and Sub heading is used on every page of the site, however on the home page it appears directly under the Orbit image rotator.
Feature image Alt text #1 should describe the first feature image
Feature heading #1 is the tile for the first home page features
Feature text #1 is the first feature description text
Complete feature #2 & #3 in a similar way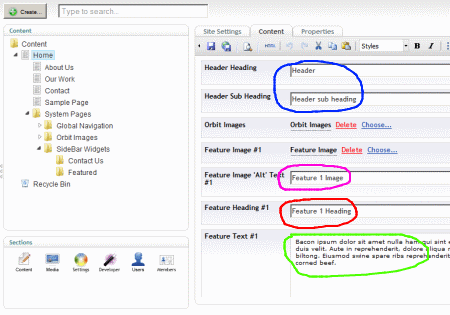 Baby step 3 - Text page content
All the other site pages other than contact use the text page template and these pages need the following fields to be completed:
Header & Sub heading - shown in green
Body text shown in red - is the main content for the page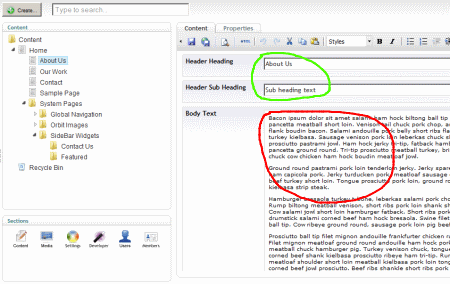 Baby step 4 - Editing the site widgets
Locate the widget you wish to update - shown in green and then update the widget headline - shown in red and the widget text - shown in blue
You can create as many widgets as you wish, just remeber to use the 'sidebar widget page' document type when creating the page.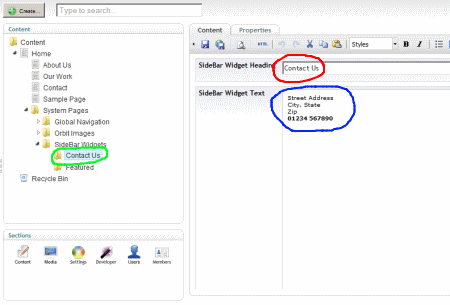 Baby step 6 - Creating new pages
See my previous tutorial for how to create pages in Umbraco.
There are a number of extra things you need to be aware of when creating a page using the uBizStart starter site as follows.
When creating a page look at a similar page first to see what document type to use, and then use the same one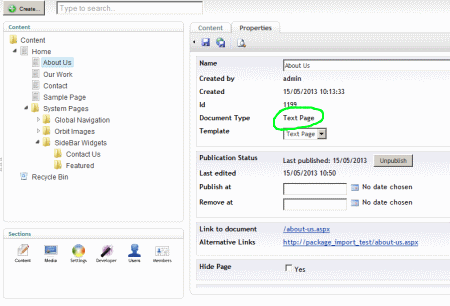 The menu system doesn't correctly support drop down menus (second level pages) at present when in the mobile view, so I recommend you limit your site to top level pages for now. This is due to a limitation with the foundation.zurb framework. I hope to add support for second level pages in a later version of uBizStart.

That's it. it's over to you now.

If you have any comments please contact me at my company www.bayleafmedia/contact