Organise Umbraco Shared Hosting
As you may have seen during earlier tutorials, there are many options when it comes to hosting an Umbraco website as follows:
Local install - ideal for the website development phase.
Dedicated server - ideal for estasblished sites that expect to get significant traffic
Shared server - ideal for new sites that initially have lower traffic levels - like we're building here.
I host all of my shared Umbraco websites on a shared hosting account with www.arvixe.com and I suggest you do the same.
Personal Class or Business Class accounts
Arvixe offer two levels of account that are suitable for this task
PersonalClass is intended to be used by individuals and families
BusinessClass is intended to be used by businesses and has better reliability and uptime
If you're carrying out this exercise for a personal site, and are happy to accept a slightly lower level of service, then I would suggest you order the PersonalClass which will cost you less than $10 / month
http://www.arvixe.com/asp_net_web_hosting
If you're planning to use this website for your business, then the increased reliability and uptime of the BusinessClass hosting is the one to go for, however this is the more expensive option.
http://www.arvixe.com/asp_net_business_web_hosting
I have built this site around the BusinessClass option, however both will work as well as each other for the purposes of the site built as part of this tutorial. 
Sign up for an account
The page below shows the 'BusinessClass ASP' hosting option (shown in green). Decide on either of the standard or pro options (shown in red).  The main difference seems to be that the pro option allows unlimited websites to be hosted. Unless you need this just go for the standard option.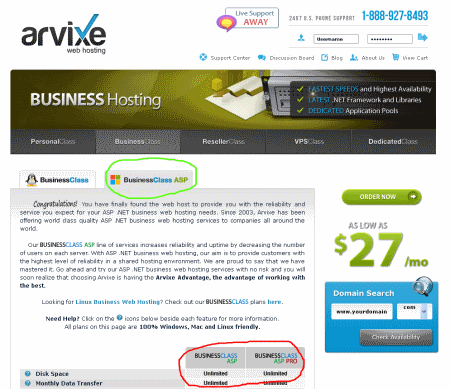 Step 1 - Select hosting type and duration
Select a plan and you'll get asked to choose the duration for your hosting. Select an option that suits your needs and add this to the 'cart'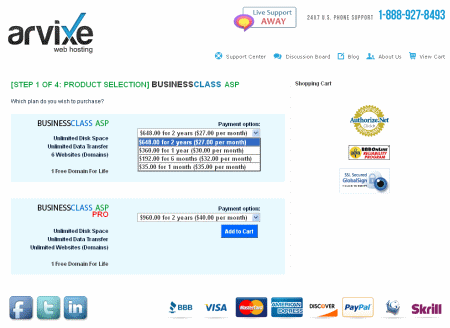 Step 2 - Create new account 
Signup for a new account as you would for any online service. Please ensure you use a strong password (not easy to guess) as your website's control panel will be indirectly accessible from this login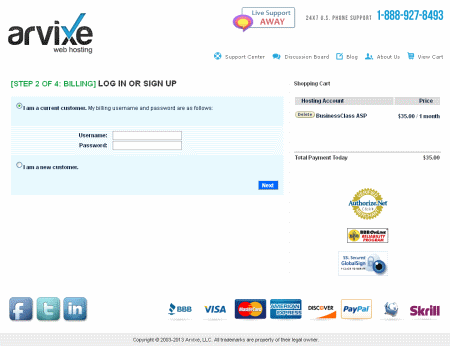 Step 3 - Enter domain name and hosting login details
This page is where you finally get to enter your chosen domain name - shown in red (that you researched on the previous page choose a domain name).
You then have the option of creating an alternative login for the webshosting - shown in green. This is useful if you want to be able to let others use this but not have access to the accounts information.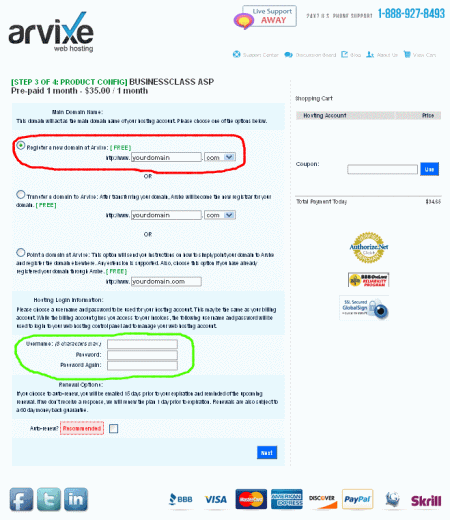 Step 4 - Make payment
Enter you payment details and submit the order
Once you're order is processed you will be sent the login details for your hosting by email.
You're now ready for the next step - Install Umbraco on shared hosting