Install uBizStart starter site
The uBizStart starter site contains all you need to create your own Umbraco small business website without needing to be a developer.
It is supplied as an Umbraco package which is really just a zip file that contains all the files and data needed for Umbraco to automatically construct a website.
uBizStart is based on the foundation.zurb responsive front end framework making it relatively easy to modify this site if required in the future.
Step 1 - Download the uBizStart package
You can signup to download the uBizStart package here. Once you've signed up and downloaded the uBizStart package you're ready for Step 2. 
Step 2 - Install the uBizStart package
Login to the site builder and select the 'developer' section - shown in green - and then 'install local package' - shown in blue. 
Read the security information in the yellow panel and then tick to say that you understand the potential risks of installing a package - shown in magenta.
Browse to the uBizStart package to install (this is the zip file you downloaded earlier, you don't need to extract the files first) - shown in red.
Finally, select 'load package' - shown in cyan.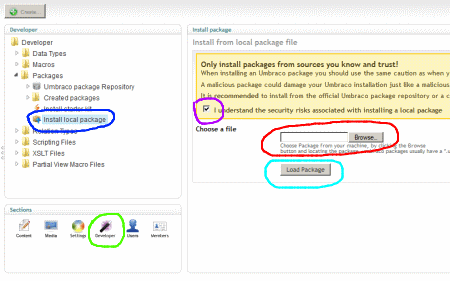 Check through the package details displayed below and if you're ok to accept the license, check the box - shown in green
Then select 'Install Package' - shown in blue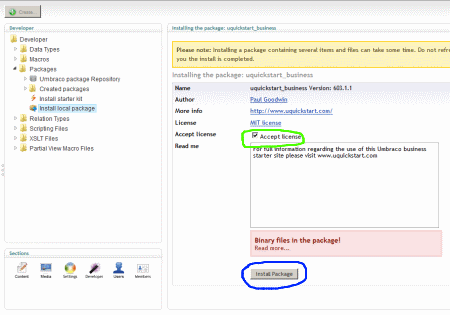 Once the installation has been completed, you should see a screen like the one below.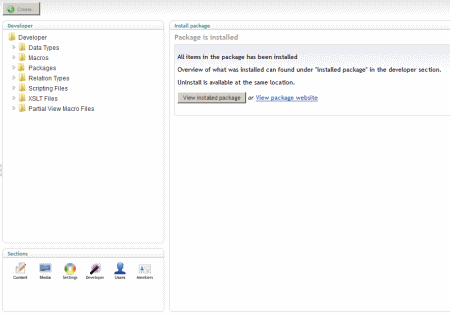 The installation is now complete, however before you can use it for your own business, you're going to need to configure it. 
We cover this in the next section: Configure uBizstart for your Business.