Install Umbraco on Shared Hosting
Now that you've got your web hosting and domain name organised you're ready to install Umbraco onto your Arvixe web hosting.
Step 1 - Login to your control pane and choose Domains
Login to the contol panel using the details Arvixe sent to you by email.
Once you're logged in click on domains - shown in red.
Step 2 - Select 'Microsoft Web App Gallery'
From the Domains page click on Microsoft Web App Gallery - shown in red.
This Microsoft tool takes all the hard work out of installing many other web applications as well as Umbraco.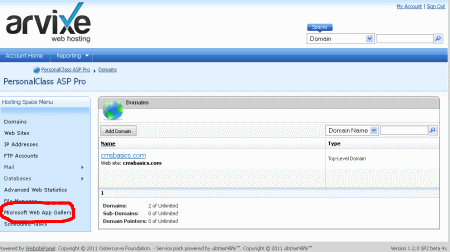 Step 3 - Start the Umbraco installation 
Browse throught the Microsoft Web Application Gallery pages untill you find the Umbraco install option - shown in green.
Tip: Using the dropdown at the top of the page - shown in red - select CMS to reduce the number of producs displayed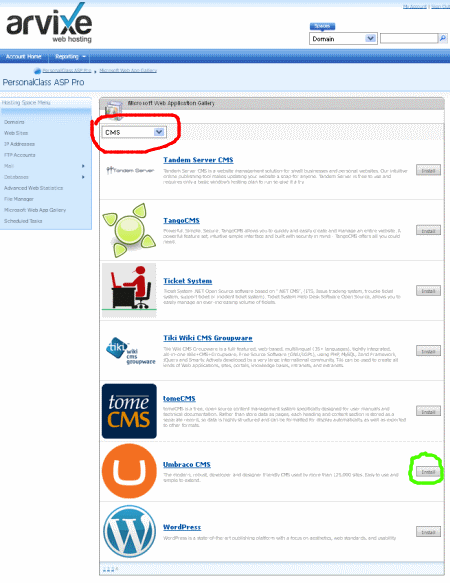 Step 4 - Continue with the install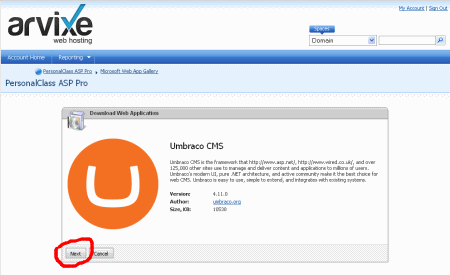 Step 5 - Configure your website
Almost there. You just need to configure your website as follows and you're home and dry:
Select the website to instal Umbraco onto - shown in red
Choose a strong password for the database - shown in green
Important: Write down the database name, database username and database password as you will need these later on.
Select install and wait whilst your Umbraco installation is carried out.
Note: the other options can be left as their default values.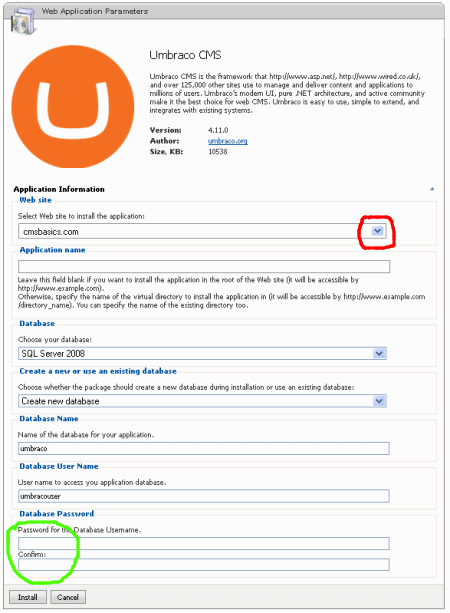 You're now ready for the next step - How to configure Umbraco